American Heart Association AHA BLS CPR and AED Certification
BLS CPR & AED Classes in Baltimore
$59.95*
We offer the most individualized CPR training at a reasonable price because we keep our class sizes smaller and offer courses multiple times every week. Our Healthcare Provider CPR classes are 100% certified by the American Heart Association (AHA) and CPR Certification Baltimore.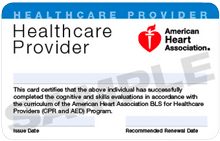 *In accordance with current AHA guidelines, after checkout, the AHA requires students to purchase and complete the AHA adaptive online learning portion of this course before coming to the in-person class.
Baltimore CPR Classes
We offer the most individualized CPR training at a reasonable price because we keep our class sizes smaller and offer courses multiple times weekly. Our Healthcare Provider CPR classes are 100% certified by the American Heart Association (AHA) and CPR Certification Baltimore.
We want to see EVERYONE able to respond to emergencies with this life-giving education!
The course covers —
Basic Life Support (BLS) for adults, children, and infants,
How to perform the seven steps of CPR,
And how to use an AED machine.
Our CPR Training Includes
Same Day CPR + First Aid Cards
Hands on Chest Compression Training
Rescue Breath Training
AED Usage for Infant, Child, and Adults
Friendly and Relaxed Environment
Professional Instructors
CPR Certification Baltimore Locations
2 Year Certification
CPR and First Aid
Certification Cards Given the Same Day as Class
Natasha, Medical Assistant
Baltimore, Maryland
""This was just the right environment to get recertified with BLS CPR. The instructor was amazing and brought the years of experience on the job to the classroom. I was very impressed with the level of knowledge that the instructor had. Learning was made interactive and fun, which was a lot better than feeling like a typical boring class. Highly recommended.""
Dahlia, Dentist
Baltimore, Maryland
""Awesome experience! I've taken many BLS classes before and this is by far the best class ever. The course was great and I enjoyed the excellent teaching. I really learned the process well and definitely feel more confident. I'd surely recommend this location to anyone that is looking to get certified.""
Michael, Nurse
Baltimore, Maryland
""Just had my BLS CPR and First Aid certification and it was so great. Got both certs knocked out in one day. The instructor made it fun and covered all the material in a clear and concise manner. If you still have questions afterwards, the company will continue to extend their support. The facility is nice, as well as easy to get in and out of. Strongly recommend signing up for this class!""
Baltimore's Best CPR Classes
Know CPR. Make a difference. Save a life.
Across the US, over 600,000 emergency calls are made each day. Thousands of lives could be rescued from heart events, accidents, and strokes if more people experienced the American Heart Association CPR classes.
If you're unsure about performing CPR or reacting during an emergency, remember that you will likely use your training on someone you know. Many victims of heart disease appear healthy and unintentional injuries happen without warning. We teach people like you every day, using the most widely recognized, accredited, and employer-accepted in-person approach, with a simple same-day certification experience.
Our CPR trainers ensure that you can fearlessly use your CPR, BLS, and AED machine skills and have the power to react in an emergency.
What is CPR?
After an individual has faced cardiac arrest, heart attack, stroke, or has drowned, Cardiopulmonary Resuscitation (CPR) is a medical process that helps revive breathing and a stopped heartbeat through a series of steps. This educational experience gives you skills to help people until first responders arrive.
Why Train With Us?
Have complete confidence in being certified for any emergencies.
Be more fully prepared to use your CPR knowledge due to our hands-on, streamlined class time and smaller group sizes.
Our CPR training is 100% certified by the American Heart Association (AHA) and prepares you for Basic Life Support (BLS) and Healthcare Provider CPR and AED in Baltimore.
Walk away from the in-person training with your CPR certification cards in hand.
What to Expect in Your CPR BLS Classes
You will have attended the finest CPR and BLS classes and be 100% certified with the AHA, meeting OSHA requirements. From learning the ABCs of CPR to utilizing an AED machine (the follow-up procedure to resuscitation), you will be confident in performing CPR during an emergency, whether attending to an adult, child, or infant.
CPR Certification
Baltimore is accepted by all employers and organizations, including —
Nurses, RNs, and CNAs
Nursing schools and All Other College Programs
Nonprofits like the Boy and Girl Scouts of America
Firefighting and Other Municipalities
Personal Training Facilities and Gyms
Daycare and Other Caretakers
Schools (Private and Public)
Construction Sites
Hospitality Industry
Hospitals
EMT/Paramedic Companies
Home Health Aides
We love forming connections with the community and supporting our city through AHA CPR classes. You can either come to our training facility, or we can come to your mid-sized to large group!
FAQS
When can I take my CPR certification course?
Class times are available weekly, enabling you to calendar your session based on your availability.
How long does the CPR certification course take to complete?
Before Covid, our AHA CPR classes lasted about four hours. Due to social-distancing guidelines, the in-person certification class time was cut down to reduce exposure time. Please complete the emailed training elements we send you before coming to class. You will receive them immediately after registering.
Our in-person, instructor-led, hands-on portion of the course addresses all training, skills check, and testing — while also answering your questions.
Even though you will receive and do a portion before coming in, these courses still fulfill 100% AHA BLS CPR AED Healthcare Provider certification training requirements.
When will my CPR certification expire?
You are required to renew CPR Classes and your certification every two years to keep your knowledge fresh and help you continue to feel confident performing CPR.